Project Organisation
The project brings together developing countries and donor agencies in a process of informal consultation, a dialogue to review experiences with nssds and examine how donors can best assist in such processes.
In Country Dialogues
Bolivia, Tanzania, Nepal, Burkina Faso and Thailand.
Each of the dialogues will be implemented by a in-country or regional team. The dialogues will involve a status review of strategic planning processes for sustainable development followed by the dialogues themselves involving stakeholder consultations, workshops and roundtables (their exact nature will vary). Bilateral and mulitlateral donors will be an integral part of the in-country dialogues.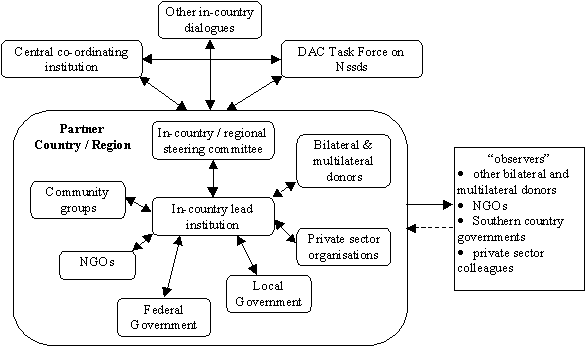 Parallel Country Processes
The project will also collaborate with and provide limited additional funding to learn from and build on existing reflective and analytical work on strategic planning supported by DAC members/observers in Ghana, Namibia and Pakistan.
DAC Task Force
The DAC Working Party on Development Cooperation and the Environment (WP/ENV) has mandated a Task Force, co-led by the European Commission and the United Kingdom, to produce guidance on best practice for assisting developing countries with the formulation and implementation of nssd processes. It is this taks force that has commissioned this project.
The Task Force will be both part of the discussion process and the principle recipient of the outputs - a sourcebook and guidelines for donors.
The Coordinating Institution
The Task Force has contracted the International Institute for Environment and Development (IIED) tofacilitate and coordinate at the international level the implementation of the six dialogues and draw lessons from three parallel strategy learning processes.
This will involve assistance for planning the approach, tracking progress (ensuring adherence to the timetable and agreed approach), reviewing and editing mid-term and final reports, drawing out generic and country specific lessons, developing an initial draft of DAC policy guidance and a draft sourcebook, and the provision of networking, liaison and administrative support.
The initial development of the web based planning support tool is led by the Natural Resources Institute (NRI), University of Greenwich, UK.